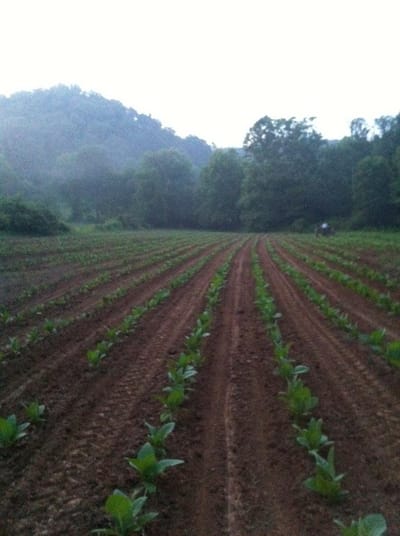 In early 2013 my Father told me about a dog my Great Grandfather, Russell had on the farm, the dogs name was Lassie and she was a working farm dog. The dog went out on the farm with my Great Grandpa everywhere, she went hunting with him, followed him on his horse all over the valley, even to church, and would stand watch over the cattle in the field across from them while they cut tobacco. I fell in love with the stories and the breed, so I began doing research on them. At the time it was not possible for me to adopt one of the OTSC because of my Grandfathers health. Fast forward to early 2016 I began inquiring about a puppy in the OTSC line. I searched to no avail and finally found a dog named Merle from the Vaccaros in Austin, TX.

As soon as I saw pictures I knew I wanted to adopt Merle, with a lot of transportation assistance the Wards and the Penses, I was able to arrange transportation for Merle Flash from Austin, TX to the OTSC picnic in Tennessee, where Vicki Pense of Six Pense Farms was able to take over transportation to their home in Illinois. Merle Flash spent a week with the Pense family and then continued on his trip to West Virginia with them as they were visiting relatives in the state only a couple hours from me. I am grateful to the Wards and the Penses for their help in the transportation of Merle Flash to his new home with me.

My ultimate goal was to eventually adopt a female puppy from a different line in order to assist families like the Wards, Penses, and Vaccaros in reviving this line of amazing and intelligent dogs. Thankfully, Tonya Ward fell in love with Merle Flash and decided that Blinky would be a great match with Flash. Arrangements were made for Blinky to get a flight to West Virginia on August, 9th, 2016 and she arrived at her new home with Flash and Myself. I gave Blinky the name Zoe and their is a specific reason I chose that name. The name Zoe is of Greek origin, and the meaning of Zoe is "life".

The arrival of Blinky Zoe gave life to the idea of owning a pair of OTSC dogs, male and female, and becoming a breeder to help give more life to the OTSC line.